Friday Feature – Buy the Dip or Sell the Rip?
September 11, 2020
Good Day All, I am blessed to be back with another edition of the Friday Feature and I hope that together we may be able to answer the question above?
If you have been watching the markets this week and who's kidding who, of course you were, you would have seen the markets finally take a breather from the unrelenting upward jog is has been on. This market reminds of the game on the Price is Right that I believe was called the cliffhanger game, that little guy just kept on chugging up the mountain until the inevitable happens… take a look at the meme below for confirmation of what I am referring to.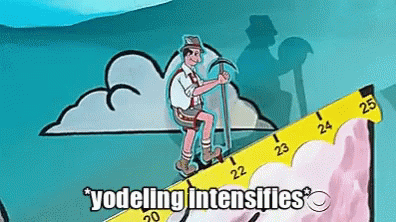 You see the SPY has looked alot like this little fellow until late last week and continued on this week. I am referring to the drop from the last all time we had on September 2nd. This market pullback has spooked a few folks and rightfully so as it was very easy to get lulled into a false sense of security with that small candle, low and slow rise that we have been in for the better part of two months. Now, I dont have to tell you all of this because it can very easily be seen on a chart, however perhaps there is something worth discussing about this current scene and that is the title of this week's article.
Do we buy the dip or sell the rip? For those who may not be familiar with these terms please allow me to explain. Buying the dip refers to waiting for a bullish trending market to pullback to support and then when it confirms to the upside buying into said security or market. Selling the rip is another matter altogether and I am certain that less folks have heard this term than the previous one. Selling the rip refers to a trap that the market sometimes like to set for unsuspecting traders. What normally happens after a sharp decline in price is that there often is an oversold bounce that looks very appetizing. There is a term for this type of rally, it is a very colorful name. It is called a "RIP YOUR FACE OFF RALLY!" I told you it was colorful. There are many other names for this rally as well and they are also very colorful but we will leave that discussion for another day.
So, how do we determine if this rally is a dip buying opportunity or a rip selling opportunity? Well, that is a good question and it is a tricky one to answer because frankly both rallies start of the same. The are pullbacks into a level support followed by an upshoot in price. So, how do we differenciate between the two? Well, there are any number of ways to figure it out but I like to keep things nice and simple so I will talk about the moving averages and how they can give us a clue as to whether this is a dip or a rip?
It doesnt matter what MA's you use as long as you have some short term and some longer term ones on your charts. I like the 9, 20 and 50 exponential MA's on my charts but as long as you have long and short you should get similar results. When I am trying to determine whether I am facing a dip or a rip I am looking for price to close above my favorite moving averages before I jump in. This method is not foolproof but any stretch of the imagination but it has served me well and kept me from getting caught too oftern tryin to buy the dip when I should have been selling the rip. If you take a look at the chart of the day which is the SPY daily chart you will see that price has not closed above the 9,20 and the 50 exponenial moving averages since it broke down last week. This tells me that the market has yet to decide if its dipping or ripping and if it can't decide then I sure won't try to decide for it. If the market breaks below the moving averages then it would probably ring true that we are back in the rip phase and if it is able to close above the MA's then perhaps we are in the buying the dip phase.
So, in answer to the above question we don't really know for sure yet but we can watch what the market is telling us through the moving averages and then jump on whichever train the market wants to take next and all that is required is monk-like patience. Trade Safe All!
Coach Holmes.
Chart of the day
Legal Disclaimer
Tackle Trading LLC ("Tackle Trading") is providing this website and any related materials, including newsletters, blog posts, videos, social media postings and any other communications (collectively, the "Materials") on an "as-is" basis. This means that although Tackle Trading strives to make the information accurate, thorough and current, neither Tackle Trading nor the author(s) of the Materials or the moderators guarantee or warrant the Materials or accept liability for any damage, loss or expense arising from the use of the Materials, whether based in tort, contract, or otherwise. Tackle Trading is providing the Materials for educational purposes only. We are not providing legal, accounting, or financial advisory services, and this is not a solicitation or recommendation to buy or sell any stocks, options, or other financial instruments or investments. Examples that address specific assets, stocks, options or other financial instrument transactions are for illustrative purposes only and are not intended to represent specific trades or transactions that we have conducted. In fact, for the purpose of illustration, we may use examples that are different from or contrary to transactions we have conducted or positions we hold. Furthermore, this website and any information or training herein are not intended as a solicitation for any future relationship, business or otherwise, between the users and the moderators. No express or implied warranties are being made with respect to these services and products. By using the Materials, each user agrees to indemnify and hold Tackle Trading harmless from all losses, expenses and costs, including reasonable attorneys' fees, arising out of or resulting from user's use of the Materials. In no event shall Tackle Trading or the author(s) or moderators be liable for any direct, special, consequential or incidental damages arising out of or related to the Materials. If this limitation on damages is not enforceable in some states, the total amount of Tackle Trading's liability to the user or others shall not exceed the amount paid by the user for such Materials.
All investing and trading in the securities market involves a high degree of risk. Any decisions to place trades in the financial markets, including trading in stocks, options or other financial instruments, is a personal decision that should only be made after conducting thorough independent research, including a personal risk and financial assessment, and prior consultation with the user's investment, legal, tax and accounting advisers, to determine whether such trading or investment is appropriate for that user.