Todays Unemployment Report: not bad or good!
March 6, 2015
Highlights
Nonfarm payrolls added 295,000 jobs in February after adding a downwardly revised 239,000 (from 257,000) in January. The Briefing.com consensus expected nonfarm payrolls to increase by 240,000 new jobs. The unemployment rate fell to 5.5% in February from 5.7% in January. The consensus expected the unemployment rate to fall to 5.6%.
Key Factors
It is difficult to label this report as good. Headline payrolls topped expectation, which is obviously a good result. However, average hourly earnings increased marginally (0.1%) after growing by 0.5% in January. Lackluster wage growth combined with the improvement in payrolls led to a 0.4% increase in aggregate wages. To put that in perspective, even after the downward revision to the January payroll numbers, aggregate income increased a much stronger 0.7% last month.
Since consumption growth, and economic growth in general, follow the trend in income, the February employment results were decidedly worse than January even though this month's headline payroll numbers far exceeded both expectations and the prior level. That is not to say that the employment data should be labeled as bad. It's just not nearly as strong as the headline suggested.
The decline in the unemployment rate was completely due to another exodus in labor market participation. The participation rate dropped to 62.8% in February from 62.9% in January. If the labor force participation rate remained at January levels, the unemployment rate would have remained at 5.7%.
Big Picture
The February employment data was not bad, but not necessarily good either.
Read more: http://briefing.com/Investor/Calendars/Economic/Releases/employ.htm#ixzz3TdMviDx5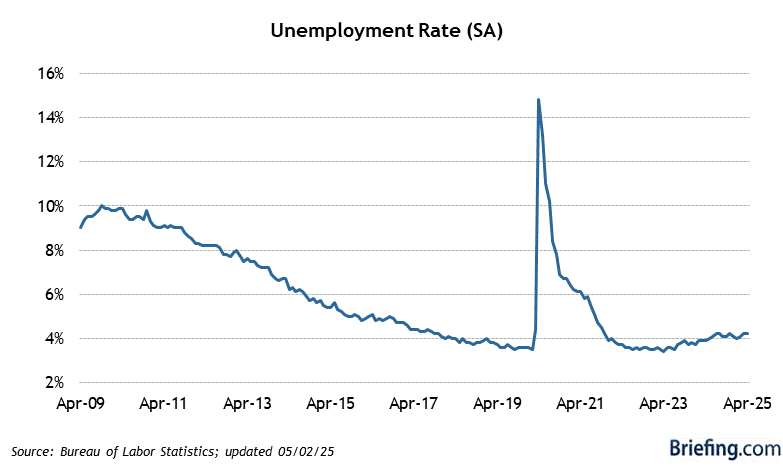 —
Tackle Trading LLC ("Tackle Trading") is providing this website and any related materials, including newsletters, blog posts, videos, social media postings and any other communications (collectively, the "Materials") on an "as-is" basis.  This means that although Tackle Trading strives to make the information accurate, thorough and current, neither Tackle Trading nor the author(s) of the Materials or the moderators guarantee or warrant the Materials or accept liability for any damage, loss or expense arising from the use of the Materials, whether based in tort, contract, or otherwise.  Tackle Trading is providing the Materials for educational purposes only. We are not providing legal, accounting, or financial advisory services, and this is not a solicitation or recommendation to buy or sell any stocks, options, or other financial instruments or investments. Examples that address specific assets, stocks, options or other financial instrument transactions are for illustrative purposes only and are not intended to represent specific trades or transactions that we have conducted. In fact, for the purpose of illustration, we may use examples that are different from or contrary to transactions we have conducted or positions we hold. Furthermore, this website and any information or training herein are not intended as a solicitation for any future relationship, business or otherwise, between the users and the moderators. No express or implied warranties are being made with respect to these services and products.  By using the Materials, each user agrees to indemnify and hold Tackle Trading harmless from all losses, expenses and costs, including reasonable attorneys' fees, arising out of or resulting from user's use of the Materials.  In no event shall Tackle Trading or the author(s) or moderators be liable for any direct, special, consequential or incidental damages arising out of or related to the Materials. If this limitation on damages is not enforceable in some states, the total amount of Tackle Trading's liability to the user or others shall not exceed the amount paid by the user for such Materials.
All investing and trading in the securities market involves a high degree of risk. Any decisions to place trades in the financial markets, including trading in stocks, options or other financial instruments, is a personal decision that should only be made after conducting thorough independent research, including a personal risk and financial assessment, and prior consultation with the user's investment, legal, tax and accounting advisers, to determine whether such trading or investment is appropriate for that user.